Introducing New Standards with Genius Jamtracks
A Collaboration with Berklee Jazz and Gender Justice
Extraordinary jazz by 101 women composers! From bebop to blues, from swing to global jazz styles, Terri Lyne Carrington's collection includes a wide variety of well-known works and hidden gems, within a broad range of jazz and jazz-adjacent styles.
We added this, not only because we see the value of the publication that helps bring into focus the omission of women composers from the history of jazz, but also because the music in it is simply amazing.
These compositions are supplementary and alternatives to the "jazz standard" canon that has served students, teachers and professionals throughout the development of jazz music.
The addition of the "New Standards", offers incredibly beautiful compositions but it's also a statement – not yet outdated.
Developed in collaboration with Berklee Jazz and Gender Justice, Genius Jamtracks sets 'new standards' for practice tools in terms of sound quality and technology. We proudly declare that Genius Jamtracks stands as the best play-along for jazz music, reflecting our dedication and respect for every note played. We are delighted with this achievement, and rest assured, we will continue to advance and enhance our app with the same love and respect for the art of music.
We would like to thank Terri Lyne Carrington, Aja Burrell Wood and Halley Elwell for their trust and incredible help and support on this project, and invaluable work with the Berklee Gender Justice department.
The days of playing along
with pre-recorded phrases are over.
Experience the thrill of seemingly endless variations with the Genius Jamtracks trio right from your smartphone!
Experience the thrill of seemingly
endless variations!
The one and only polyrhythmic play-along
In the Jam Session mode, the app decides on its own what to play and when to play it, based on the style of the song and the tempo.
Experiment with how the app transforms the rhythm and the harmony according to the slider levels.
Practice that Feels like Performance
Focus on a specific grouping, polyrhythm or rhythmic displacement. Ask the trio – or an individual instrument – to include only what you've requested when they introduce polyrhythmic phrasing.
As you won't know when or how it will be used though, this feature also helps sharpen your ability to improvise as well as mastering that rhythm!
Get creative with your own songs!
Start composing the jazz standards of the next century!
Click on the Pencil icon to start experimenting with your compositions and see how they swing with the Genius Jamtracks trio.
Easy To Read Charts with custom fonts
12 Different Song Styles
Add Melody Accents
Go From 3/4 Up To 17/4
Experiment with Different Complexity Levels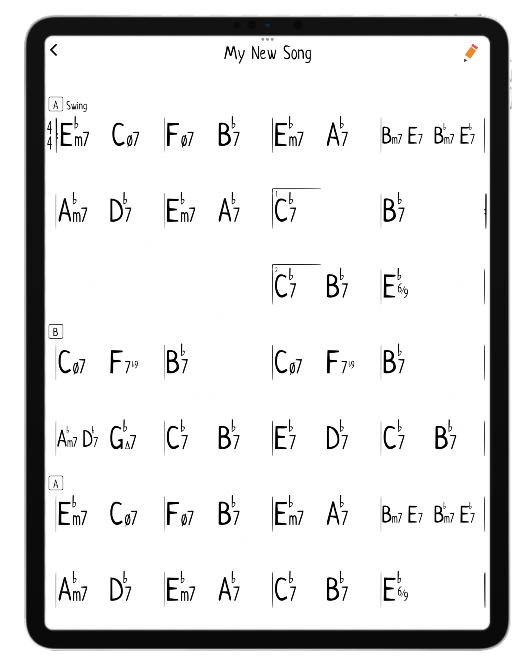 "Genius Jamtracks is easily the best play along app out there! Particularly the piano voicings are more logical and realistic than other play-along apps. The bass and drums are not just a simple repetitive pattern, but actually use some jazz language. And it's nice that you can make the band busy in unpredictable ways. As much like playing with a real group as you can get from an algorithm. Highly recommended!"
"It's like a jazz musician wrote it. The drums and piano are just like how a jazz drummer and pianist would play. Couldn't be an easy task to create that!"
Consider us the next best thing to a round of applause
Drop us an email at support@geniusjamtracks.com