Antonis Tsikandilakis
Genius Jamtracks – PitchBop
Antonis is the co-creator of Genius Jamtracks. He is also the co-creator of PitchBop. A multi-instrumentalist, he performs with the free jazz trio Outward Bound, as well as with the FreeTheSopranoPlayer artist collective. After a few years of being involved in music software development, he discovered that good code feels like beautiful music to him.
Andreas Apergis
PitchBop
Andreas helped with the graphical user interface of PitchBop. He studied Computer Science and classical piano, currently pursuing a master's degree in Electroacoustic Music Composition. He gets passionate about audio signal processing and computer music languages. When he's not nerding about these, he nerds about traditional cooking. Probably better at the last one though.
Maximos Kaliakatsos-Papakostas
Genius Jamtracks – PitchBop
Maximos is the lead software engineer of Genius Jamtracks and PitchBop. He holds a PhD in AI and Music and spends his time in research, software development, lecturing in universities, and running. His desire to keep in shape with playing the guitar is hindered by his desperate efforts to maintain a healthy work-work balance.
Lynn Baker
PitchBop
Lynn is a musician who plays saxophones and percussion in a wide variety of musical ensembles. Lynn has published many articles and books on improvisation, jazz history, and saxophone and is an Origin Arts recording artist, Conn-Selmer artist clinician, and Grammy-nominated music educator. He has spent the past 40 years teaching music at various colleges and universities and has finally decided to do something useful with his life.
Dimitris Neonakis
Genius Jamtracks – PitchBop
Dimitris is one of the creators of Genius Jamtracks. He is also one of the guys that created PitchBop. Primarily a guitar player, he has taken part in various live and recording projects, both as a sideman and as a leader. When he is not playing with other people he spends his time playing along to the beautiful apps he helped create.
Emma Collier
Genius Jamtracks – PitchBop
Emma Collier is the Project Manager & Brand Storyteller for Genius Jamtracks and PitchBop, as well as the creator and host of our podcast, Genius JamCats. A versatile writer and improviser, you will easily find her and her project, Artemis in Harlem, doing joyful, unrelated things everywhere. A secret notebook once described her as 40 different characters written into one body by the precocious child of a Dada artist + inventor that knows very well how persuasive pineapples can be.
Dimitris Koutantos
Genius Jamtracks
Dimitris is Genius Jamtracks drummer's teacher. The comping and polyrhythmic phrasing are based on ideas played by Dimitris during many hours of drum recordings. He got his bachelor diploma in jazz music at the Royal Conservatory of the Hague, after studying for 4 years with Eric Ineke, Stefan Kruger & Felix Schlarmann. In this period he is doing his Master studies at the same institution focusing on contemporary improvisational styles and composition.
Yiannis Iliakis
Genius Jamtracks
Yiannis is a painter and a drummer. Ηis endless creativity pushes his art to the limits. He is one of the most active free improvisers in the greek music scene and has released three solo albums and many others with the bands he is part of.
Genius Jamtracks free improvisation drumming is based on his ideas!
Want to meet the Genius Jamtracks trio?
Raised in a musically esoteric family on the outskirts of NYC, Ruby's first instrument was a 1930's banjolele and her first gig alongside her grandparents at a local festival at the age of ten. Her father, a prominent jazz bassist, encouraged her pursuit of the bass as a way, as he put it, of "managing unmanageable weight, learning how to carry it great distances, and make it sound marvelous nonetheless".  When she's not laying down lovely lines with the trio, you can find her working on one of her giant finger painting murals, improvising sketch comedy in unassuming locations like the bank, and generally putting a little bit of magic into everything she does.
Percussion has been a lifelong passion for Earl. From the time he was a child, sounds and rhythm were his primary fascination: how they exuded from every object and how that changed depending upon the impact, how they could be created and developed on a whim with literally anything you could put your hands on. The world has always felt like one giant drum set to him and in his free time he can often be found seeking out and recording the unintentional percussion that occurs from both man and machine in the world around him to incorporate into his own music later.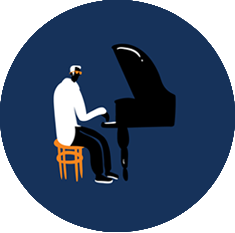 Jarrett's first piano was drawn on piece of poster board at the age of six and kept hidden under his bed to practice on the sly after his parents refused to let him play the piano in their house. Entirely self-taught, one of his greatest joys is helping other people learn how to speak through the instrument, no matter how they find their way to it. In addition to creating beautiful melodies with the trio, he loves shooting experimental films in ghost towns, arguing about black holes with misguided strangers on the metro, and being under water whenever possible.