Better ears make better musicians.
With PitchBop's endless melodies, you'll have the confidence to know you heard it right the first time.
Practice That Feels Like Performance.
Improves the connection between your ear and your instrument by directly linking the level of skill to the accuracy of the performance. Repeat the phrase you hear and monitor your feedback after every session
PitchBop

will help you be a better musician.
That's the main reason to do it!
~ Aimee Nolte
"PitchBop is an incredible ear training app which is super fun and challenging. I can see if I make this a part of my daily practice my ears will develop to a place that I never thought was possible. Thanks to PitchBop I now have something to work towards and the fact that your results are monetized means I can really see my growth and development each day."

Tony Grey

Artist & Educator | Tony Grey Bass Academy
"Any student who has developed beyond the first few lessons on an instrument could benefit from this experience. At the highest levels, any professional musician could also be challenged."

Randy Hoepker

Multi-Instrumentalist Music Educator
"Practicing with Pitchbop is a fantastic way for vocalists and instrumentalists to improve their listening skills. It really helps me improve my pitch and rhythmic accuracy. It gradually takes you to more advanced levels and can provide a great challenge. A real solution for call and response practice!"

Erini (a.k.a. Eirini Tornesaki)

Vocalist / Educator Berklee College of Music Professor, Former Cirque Du Soleil vocalist
"It is without question the best educational product I have seen for the iOS environment.
The call-and-response backbone of the app and progressive difficulty of examples during a given session has a welcoming improvisational feel to it- in fact, as the difficulty slowly ramps up, it becomes ADDICTING!
I recommend PitchBop for musicians of any style or level. They will not only steadily improve as they practice, but have a blast doing so in the process!"

Richard Boukas

Guitarist, Vocalist, Composer, Educator faculty (New School College for Performing Arts, New York City)
The days of practicing to the same pre-recorded phrases are over. Based on AI, PitchBop is designed to create endless melodies for you to listen and play back so your ears steadily improve the more you play. In Dr. Bop's Game, the algorithm makes all the choices for you by adjusting the difficulty level according to your performance so you'll always be appropriately challenged.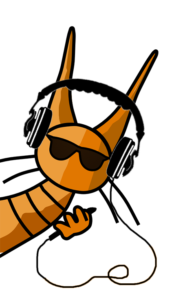 "My ears are at your service."
Practice mode allows you to manually adjust the settings to work on something specific.
Tempo




Set the tempo between 50 and 160 beats per minute.

Root


Set the key center.

Scale


Select the scale or harmony area.

Lowest and Highest Pitch


Select the pitch limits of the call.

Always start on root


Toggle between always starting on the root or not.

Calls per session


Set the number of calls between 4 and 32.

Swing/Even


Toggle between Swing and Even beat divisions.

Chromatic notes


Toggle between using chromatic notes or only diatonic notes.
Make ear training your new guilty pleasure.
Write us here or drop us an email at support@pitchbop.com